By KATIE SCHUBERT, KIOS News
An exhibition of works by a Council Bluffs native opens next Friday at UNO.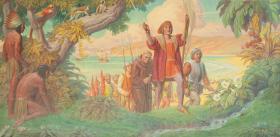 Credit Louis Grell Foundation
"Discovery," a mural by Louis Grell.
It's called "Discovering Louis Grell: American Muralist." Grell was born in 1887 in Council Bluffs and died in 1960. His murals appear in places such as the Chicago Theatre, Union Station in St. Louis, and the Times Square Paramount in New York City.
His grand-nephew, Richard Grell, says the paintings in the UNO exhibition are from the family's collection.
"He was mostly known as a muralist, but you're going to find family portraits there, you'll see landscapes, fantasy-type paintings, and you're going to see a lot of mural studies that ended up in our family, that he would send to our family over the years. So everything's coming from the Louis Grell extended family."
Grell hopes the exhibition will become part of a larger project showcasing his grand-uncle's works.
The exhibition will be open at the UNO Art Gallery through February 20th. Richard Grell will also give a lecture on January 23rd about Louis Grell's work. More information is available at www.unomaha.edu.
See more at http://kios.org/post/art-exhibition-features-works-council-bluffs-native-louis-grell